What a day!
I headed into the markets today with my mum and even though we arrived early-ish (10am) there were plenty of peope already there! Parking wasn't too bad but it certainly wasn't plesant trying to negotiate some of the stalls with a pram. In the end my pashmina became a sling and she was carried around.
There were plenty of delicious yarns today & a few really lovely garments but they were soooo expensive! I did splurge on a few bits & pieces...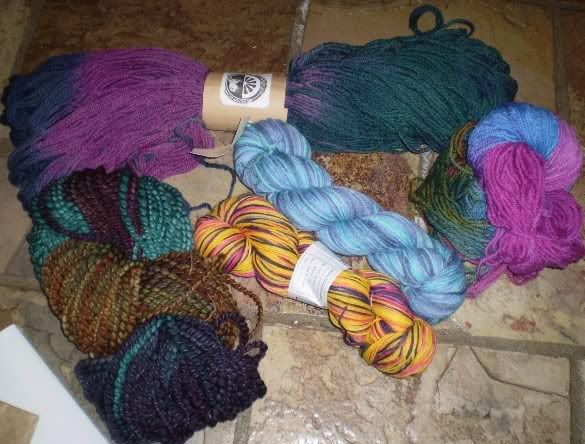 Top yarn - 8ply beautiful shades of blues, greens and purples - beanies for mum & I
Left - 12ply slightly slubby browns, greens, blues & purples - scarf for me
Next - Happy spider 4ply sock yarn - socks (well that's the plan anyway!)
Next - 8ply yarn - 'blueberry ridge' - beanie for mum for work
Next - 8ply yarn - purples, greens & pinks - beanie for Charlie
Lots of similar colourways but they are just all beautiful! Now I'll spend the night browsing Ravelry looking for the perfect patterns! The 12 ply did come with a pattern, just a garter stitch scarf so not sure if I'll go with that (would show off the yarn beautifully) or try and find something else & I've got a pattern I want to try with the Blueberry Ridge. Also got some info from stitch & bitch so I'm hoping that I will be able to make it to one of their meetings soon!